Pip & Nut
A playful commerce experience
Pip & Nut are a UK based food company who make delicious nut butters and snacks. Their passion for their product and strong moral code has helped them build a huge online following and as a B-Corp they are defining the standards for CSR. A true grassroots brand, Pip started selling her nut butter in London's Maltby Street Market in 2013 and now you can find it in over 6000 stores around the world. 
The brief was to create a new flagship online store for the brand to increase awareness in more mainstream markets, boost direct to consumer sales including through subscription products and underpin their marketing campaigns
Identity
Bold colours, friendly typography, animated nut-men and hand-drawn icons all came together to represent the brand online.
Deliverables
Web design, Shopify e-commerce & Email Marketing
Colour
White was used as the background to support product recognition, contrasted with bright pops of colour to focus attention on key calls to action.
Brown
R81 G27 B11
#511b0b
Light Brown
R151 G72 B3
#974803
Background Grey
R240 G239 B238
#f0efee
CTA Green
R119 G184 B42
#77b82a
Yellow
R250 G181 B0
#fab500
A flagship store packed with personality
This is a playful and inclusive Shopify e-commerce website which tells the story of the brand and makes their products look as delicious as they taste. 
Rich animated content
Clear commercial calls to action
Rich product pages
Subscription products
Email marketing automation
Focus on sustainability
Interwoven with brand stories
Customer reviews
Hero products
The products are filled with so much goodness that we had to really stretch what's possible in Shopify to new levels to create visually stunning and content rich product pages to do them justice.
It's been a pleasure working with the talented team at Superrb on our new website. They really understood the brand's personality from the start, and helped bring this to life through their designs. We wanted to create a site that both tells our brand story and serves as a functional eCommerce platform to drive online sales. We're really happy with the result.
Icons & animation
We enlisted the help of branding experts B&B Studio to design a suite of hand-drawn icons for use on the website which is consistent with the on-pack identity.
To create a playful customer experience, we designed a number of nut-men characters which were lovingly animated and woven into the UI of the website to add humour, reward and delight users.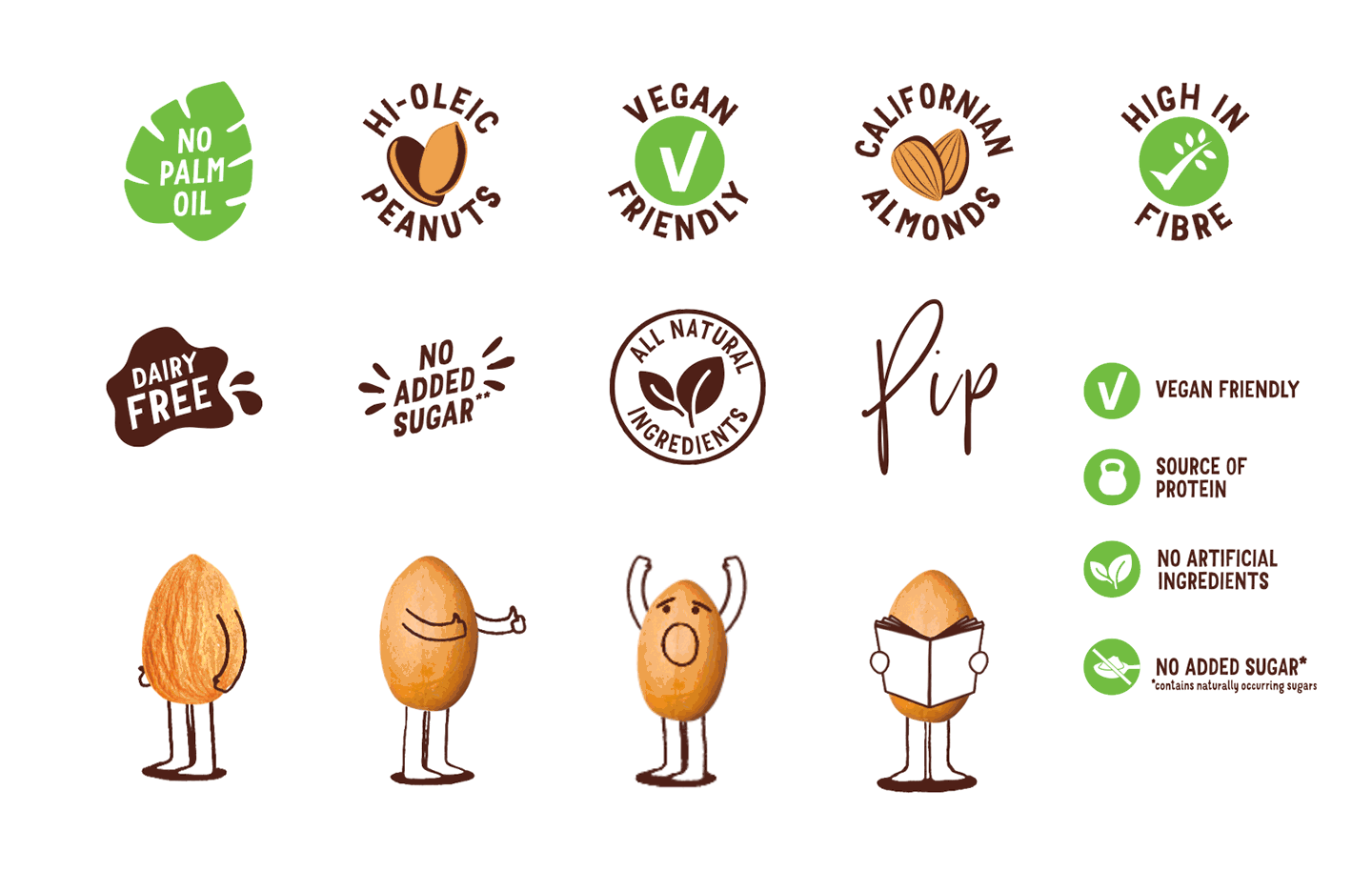 Mobile first
Recognising that mobile was the primary source of traffic to the website, we took a mobile first approach to wire-framing the user experience to ensure it would convert effectively for this audience.
Before starting the build we created an interactive prototype and tested our design with a sample audience group as well as being reviewed from a technical SEO perspective so we knew it would be search engine friendly, truly responsive and quick to load.
Art direction & content
We worked with Pip & Nut to develop a new signature style of photography for the website which made the product the hero and used bold background colours and animated GIFs to add playfulness to the customer experience. 
Next Project. BMC Switzerland